Our Work
CEI Schools, Sri Lanka
Education, when accessible, is the "great equalizer". By addressing one of poverty's root causes, CEI empowers children to become leaders of the future. Since 1998, CEI has provided free primary and secondary education to children in Sri Lanka, operating 62 schools that serve over 6,800 students. The students attending CEI schools in Sri Lanka have achieved some of the highest test scores in the entire country due to our highly trained staff and effective curriculum.
Click here to learn about Child Empowerment International's success in providing education for thousands of children in Sri Lanka.
CEI Schools, Uganda
Empowered by our successful efforts in reaching children affected by civil war and unrest in Sri Lanka, CEI continues its mission of empowering children in need in Uganda. The country's tragic history of military repression, guerilla warfare and human rights abuses over the last 30 years has left half a million Ugandans dead and uprooted 1.6 million refugees. Consequently, children have been exploited for military purposes and are being orphaned in record numbers by the violence & HIV/AIDS epidemic.
Read more about our programs in Uganda and learn how you can get involved.
Leadership Academies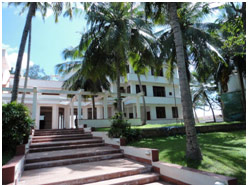 Through the two Leadership Academies CEI operates in Sri Lanka, we have been able to provide a secure environment for children who were once susceptible to severe poverty and exploitation due to the country's history of civil unrest. CEI aims to give these children holistic care by providing food, shelter, clothing, medical treatments, education and support.
Click here to read more about our Leadership Academies.
Lance Berkman Learning Center (LBLC)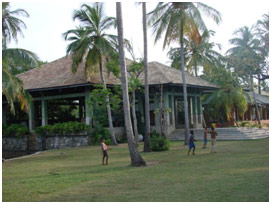 The Lance Berkman Learning Center is a vocational learning facility where the goal of Child Empowerment International is empowering children, through education, and creating future leaders of the world. Here the children are learning skills that will allow them to contribute to their community, to the Sri Lankan society and enable them to become powerful leaders.
Read more about the Lance Berkman Learning Center.
Bryant and Kristin Young Computer Lab at Kalapuwa Sri Leadership Academy
Computers have the power to connect and transform individuals, groups and the society, the Bryant and Kristin Young Computer Lab has done this for the lives of children at Child Empowerment International's Leadership Academies.
Find out how computers are changing lives in Sri Lanka.
Sustainable Fish Farms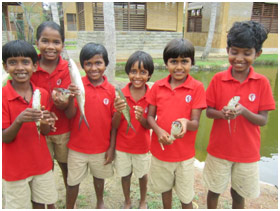 The Kalapuwa Sri Sustainable Fish Farm Project provides critical vocational training opportunities to over 200 orphaned children, some traumatized by the civil war or tsunami, that are cared for at the Kalapuwa & Samudra Sri Leadership Academies. The region surrounding Kalapuwa Sri derives its income primarily from a fishing industry and this project will build a new fish processing facility that will add greatly to the scope of the existing vocational training program that empowers our students.
Find out how this project is a vocational success.
Humanitarian Relief
As natural disasters, war and environmental crises affect regions of the world where CEI works, relief efforts and supporting communities are naturally part of CEI projects. CEI is committed to creating sustainable solutions and community involvement with all of our projects. After the 2004 tsunami, CEI's field team was tasked with coordinating military relief efforts, bringing in medical teams, gathering and burying the deceased, trauma counseling, water purification, setting up refugee camps, and channeling millions of dollars in international aid and supplies to some of the hardest hit regions of the island.