CEI Schools

Education, when it is accessible, is the "great equalizer." It combats economic disparity and affords people from any background the opportunity to realize a promising future. When education is absent, however, it can lock entire nations into cycles of poverty.

Child Empowerment International views providing free education as the front lines for combating global poverty. By addressing its root cause, we are empowering children to become the leaders of the next generation.

Recent studies have shown that providing education is one of the highest yielding investments you can make in the developing world. It empowers families, neighborhoods and entire communities. According to the World Bank, each year of education increases an individual person's future earnings by 10 percent. In poorer countries this percentage is even higher.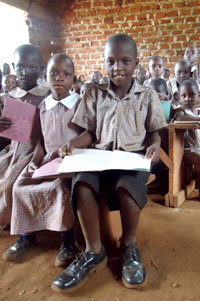 CEI utilizes several indicators measuring the results of strategically empowering forgotten children, not least of which is the numbers of graduates from our programs successfully negotiating life-skills acquired from CEI. For example, in Sri Lanka, which is based on the British system of education preparing young people for Ordinary Level and Advanced Level testing, CEI's students consistently score in the top 5 percentile of all Sri Lankan students. CEI has gained a reputation with the Ministry of Education in both Sri Lanka and Uganda and has acquired the Presidential Seal of Educational Excellence. Further, curriculum development is analyzed annually by both education and mental health experts assuring that the best possible techniques continue to be utilized year to year. In addition, staff training is paramount to the success of each program. Faculty from Stanford University, the University of Washington, and Seattle University are called upon for on the field quality improvement assessments. Quantitative research is currently ongoing determining long-term quality of life of CEI graduates and will be completed for publication in 2017.
Along with a basic education, we also provide our students with vocational training in several different professions. So while they are learning biology and grammar, they are also training to become carpenters, seamstresses, chefs, mechanics and hotel managers. Many of our schools offer computer training and ESL classes as well.
Empowerment means equipping children to have successful, meaningful, healthy lives.

CEI has successfully empowered children in war-torn areas around the world for the past 19 years. With a dedicated staff of over 200 teachers along with medical and mental health professionals, the mission is providing forgotten children with life-skills that empower them to change the world.
---
What You Can Do